Contents | Start | End | Previous: Garth Crosses Over the Rainbow Bridge | Next: More on the Genetic Connection
---
Karen Changes the CSF World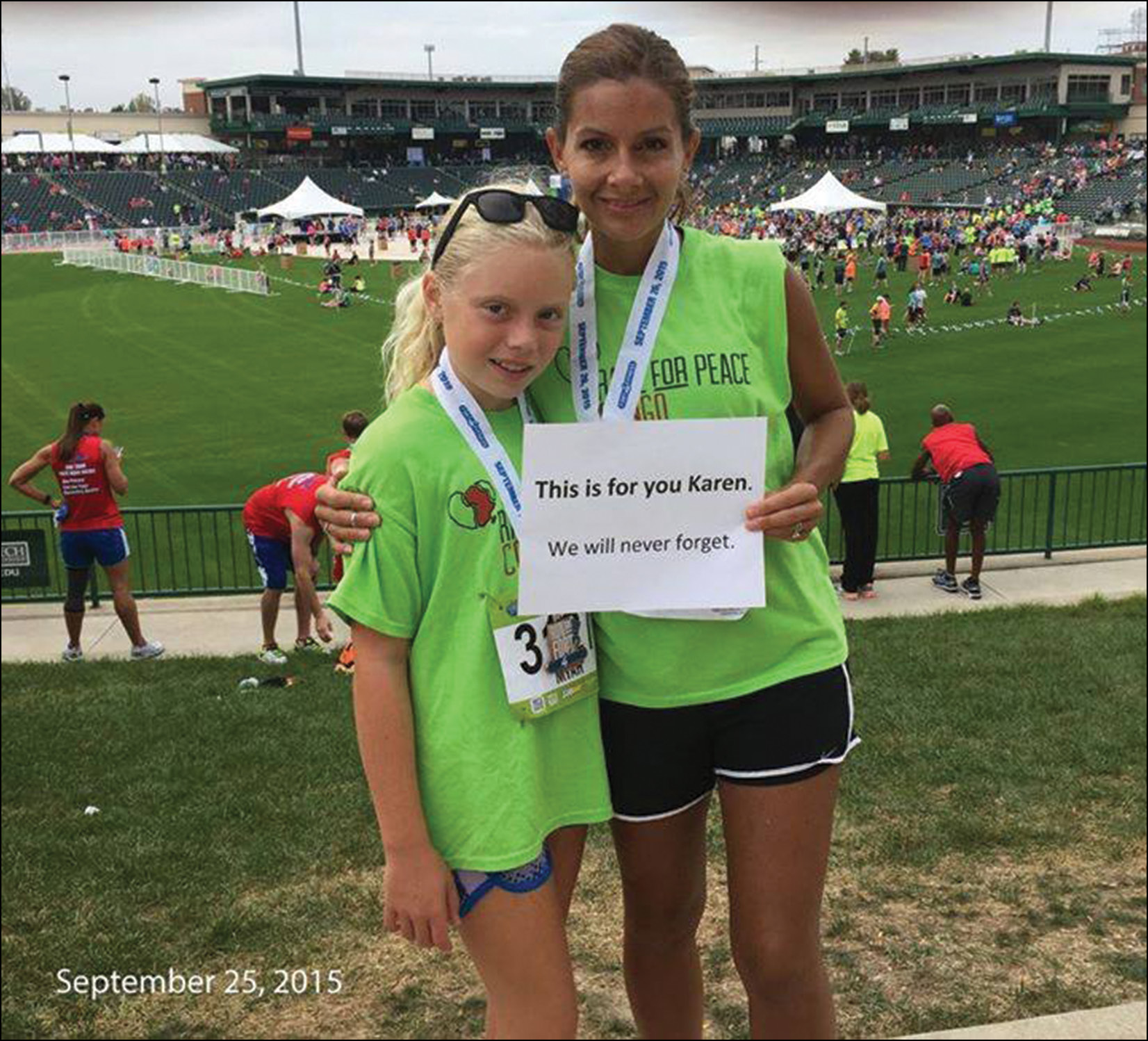 Friday, September 25, 2015
"I'm feeling very grateful that I was able to finish the 4-mile today with Myah. I used to be an avid runner, but having a cerebrospinal fluid leak for several years makes that almost impossible. So I am beyond grateful for God's strength and the few low-pain hours. I know so many others with this condition who are suffering so much more than me. This is the third year that Myah and I have been able to honor the memory of Karen Bob Shettler Paddock, who suffered for so long and lost the battle. So from Myah and I, this was for you today, Karen." ~ Janelle Hermes Hibiske
Sunday, September 27, 2015
Today I had a great lunch with Dr Maegan Lee Thornton, Dawn Lee, and their husbands. Maegan has a CSF Leak as Karen did. Together Maegan and Dawn wrote their own CSF Leak book Called to Suffer. It is written in a style I've never seen in any other book. The first half of each chapter is Maegan writing from her perspective of the suffer and the second half is written by her mother, Dawn, from the perspective of care taker watching a beloved child suffer with this dreadful disease. See their website on how to order a copy of their book:  http://www.calledtosuffer.com.
Maegan wrote a page about Karen, how Karen has changed and is still changing the medical world—something I never really saw from me being too close to all of this. It has me in tears every time I read it.
"I don't want to be ordinary anymore, because of a person like Karen Paddock...I want to be extraordinary." ~ Maegan
Monday, September 28, 2015
Today I dropped two copies of Karen's books and a copy of Maegan/Dawn's book off at Duke. I gave them to Dean Andrews' assistant, Mary, as we had previously arranged. They will be put in the Duke Medical Library.
Monday, October 12, 2015
I received this letter from Duke about the books.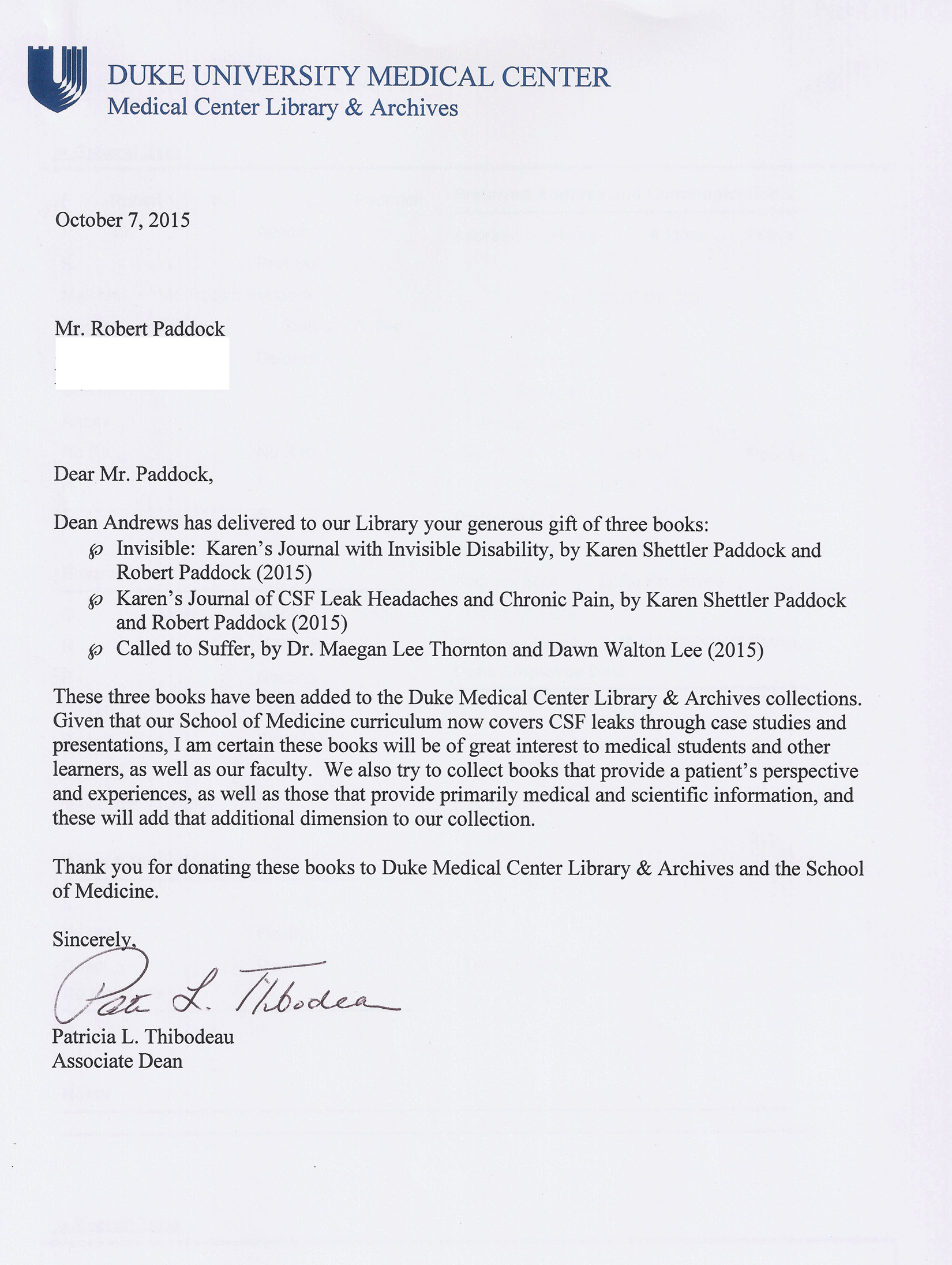 Friday, October 17, 2015
Karen's flouroquniolone poisoning by Levaquin® (Levofloxacin) has been given a name by the FDA!
"... A review of the FDA Adverse Event Reporting System (FEARS) was preformed to characterize a constellation of symptoms leading to disability that had been observed during FDA monitoring of fluoroquinolone safety reports. This constellation of symptoms will be referred to in this review as 'fluoroquinolone-associated disability' (FQAD)"... page 17 of 617.
From: FDA Briefing Document
Joint Meeting of the Antimicrobial Drugs Advisory Committee and the Drug Safety and Risk Management Advisory Committee
November 5, 2015;
[Yes in the future. That is the date of the review meeting coming up.]
The Benefits and Risks of Systemic Fluoroquinolone Antibacterial Drugs for the Treatment of Acute Bacterial Sinusitis (ABS), Acute Bacterial Exacerbation of Chronic Bronchitis in Patients Who Have Chronic Obstructive Pulmonary Disease (ABECB-COPD), and Uncomplicated Urinary Tract Infections (uUTI).
Monday, October 19, 2015
Two interesting things happened today. First I received this from the Duke Medical School Librarian:
"I should have the books cataloged and in the collection by the end of the week. We have books on Cerebrospinal Fluid, but these will be the first of CFL"
It never occurred to me until now that Karen's book is the first book in the world about Cerebrospinal Fluid Leaks. Once again, she has changed the world.
Second, I'm told this edition of the book will be put on the FDA's website as a public document being entered into the record for the up coming meeting on November 5th, 2015. This book was always meant to be about raising awareness of both the antibiotic damage and CSF Leaks. Once again, I could never have imagined this happening.
Thursday, November 5, 2015
Today was the FDA hearing. We won! The rare dual FDA advisory board recommended that significant changes need made in how fluoroquinolone antibiotics like Levaquin, Cipro (23 other names for them) are labeled and prescribed. http://www.kpaddock.com/fq has the list.
Sadly, the book was not on the public facing http://www.fda.gov, just the one available to those at the hearing. Links to the actual hearing and the hearing votes are found here: http://www.kpaddock.com/fq.
For Sinusitis and Uncomplicated Urinary Tract Infections (uUTI) these drugs are no better than Ibuprofen used as a placebo in the FDA study/report. These FQ antibiotics are harming many!
Sunday, January 24, 2016
I just logged into Karen's email account, first time in months, and found her eBay account was deleted for inactivity. She worked hard to maintain her reputation there, makes me sad.
Suicidal Behavior and Ideation and Antiepileptic Drugs

Yesterday I heard from someone that had been standing on the edge of a bridge ready to jump, and in a moment of clarity, remembered my warnings about suicidal thoughts being caused by Gabapentin (Neurontin). Karen was on this crap when she died and had been on it for a long time. They sought immediate help to get off of the drug and are recovering. That makes me happy. Sadly, they are still having occasional flashbacks to some of the thoughts they had about checking out early.
"Manufacturers of antiepileptic drugs (AEDs) or anticonvulsant drugs will update product labeling to include a warning about an increased risk of suicidal thoughts or actions and will develop a Medication Guide to help patients understand this risk."
---
Contents | Start | End | Previous: Garth Crosses Over the Rainbow Bridge | Next: More on the Genetic Connection