Contents | Start | End | Previous: Karen Is Front Page News! | Next: Karen Changes the CSF World
---
Garth Crosses Over the Rainbow Bridge
Tuesday, August 4, 2015
Garth is getting worse. I'm taking him to a different vet for a second opinion. They did a bunch of blood tests, will get results on Thursday.
Thursday, August 6, 2015
"Garth's kidneys are failing due to the drugs he has been on. You need to take him to PVSEC ER in Pittsburgh."
PVSEC is the vet of last resort in this region. I left work, went home, got him to PVSEC. They did an MRI and blood tests. Results of the MRI showed that he had a massive stroke sometime in the distant past. No way to tell how long ago. Neither Karen nor I were aware of this.
His more recent health issues that were being blamed on the Lyme Disease where actually mini-strokes and that is why he was having progressive trouble walking. He just could not get his back end in gear. If I helped him up he could walk but not more than a few hundred feet.
The original vet said, "He is old. Let him die!" Never going back there. He will not die this week on the anniversary of Karen's suicide!
Can't even trust a vet. How do you mistake Lyme Disease for a stroke?
Friday, August 7, 2015
Two years ago today for Karen's death. Why do the days drag and the weeks/months/years fly by? So much I'd like to be doing to help people yet I always seem to be at work.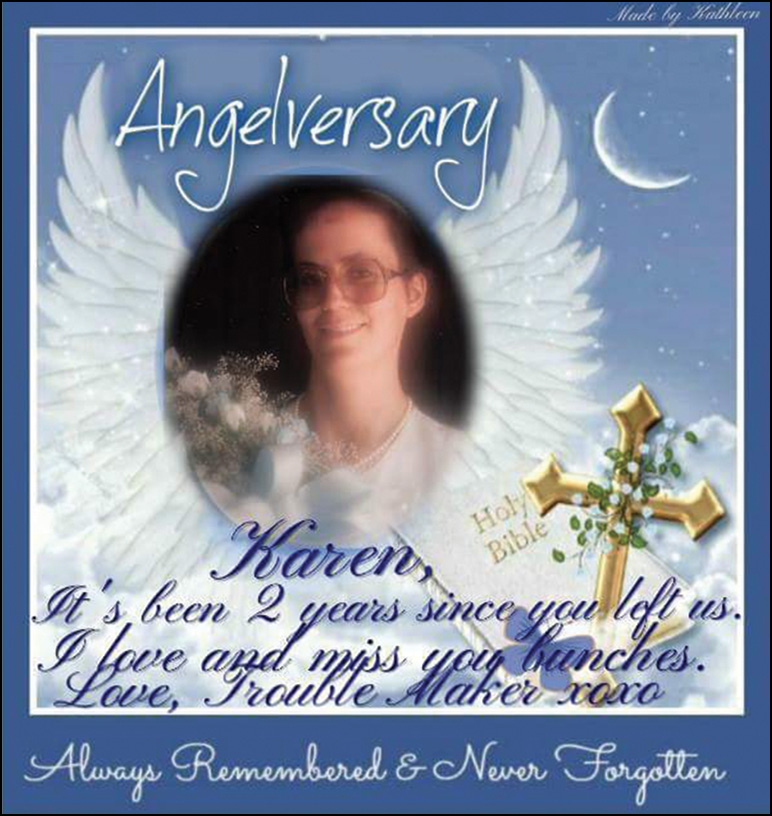 Saturday August 8, 2015
I went to visit Garth at PVSEC today. Took him for a walk outside. He wanted to sniff everything. No big improvements.
Sunday, August 9, 2015
I hear that leaker Troy Bachis took his own life today. That makes two since Karen's suicide. This must stop!
Monday, August 10, 2015
They let me bring Garth home today. He is a bit better now that they got his kidneys flushed out. Alas, the damage from the Lyme medication is permanent.
Wednesday, August 19, 2015
Took Garth to an acupuncture doctor near the Pittsburgh Airport. He said he might be able to help with the stroke symptoms but it would take six to twelve appointments to see any progress. He also said Garth had TMJ. I had kept thinking he had a toothache because he just was not eating everything is sight like he did in the past.
Thursday, September 3, 2015
Today would have been Karen's 46th birthday.
I keep finding the back-porch light on today. It is part of motion sensor system, it should not be on during the day.
Saturday, September 5, 2015 at 9am
While working outside I see the back-porch light turn on. I'm going to have to replace that switch. Just what I need, something else to deal with right now. Garth is not doing well at all.
Saturday, September 5, 2015 at 2pm
I think Garth has had an other stroke. He is not doing well at all and all the vets have left for the long Labor Day holiday. He can no longer get up without my help.
Sunday, September 6, 2015
I just made the hardest decisions of my life. On Tuesday (due to holiday) I'm calling he vet to have Garth put down. It is clear that he is in pain. It looks like it is hurting for him to simply eat.
Tuesday, September 7, 2015 at 8:30am
The vet said to bring Garth in at 4:00pm today. It is going to a long day. Taking the day off work to spend it with Garth. He is the last of what I consider my own personal family.
I notice that the back-porch light has not been turning itself on since I decided it was time for Garth to join Karen at Rainbow Bridge. Was there electrical interference with the motion sensor, the other related lights were not on, or was this some kind of sign from Karen, "I'll leave the light on until you get Home with me Garth?" It is also possible I was an agent in Recurrent Spontaneous Psychokinesis. I'm sure you know which one I think it was. You?
Tuesday, September 7, 2015 at 3:15pm
I stop at BiBo's Restaurant across from the vets office. Garth was not going out hungry. He ate a double burger and some ice cream. Did take him a while. He lasted to age fifteen due to Karen taking such good care of him and feeding him nothing but healthy dog food. I don't thinking eating healthy at this stage of his remaining life is going to make any difference. I feel that I have failed him. If only Karen would have thought through the rest of our futures without her. She thought she was setting me free to have a life without her holding me back. What I have learned is that suicide does not end pain, it gives it to those that are left behind.
Tuesday, September 7, 2015 at 4:15pm
As I squat on the floor holding Garth in my arm, the vet sends him on his way to be with Karen at the Rainbow Bridge. I tell him that I love him, that Mommy loves him, and the she will be waiting for him. Why does doing the Right Thing hurt so much?
Saturday, September 12, 2015
I realize I have to clean up my own crumbs off the floor. I miss you Garth! I miss you too Karen! Be Happy together now!
---
Contents | Start | End | Previous: Karen Is Front Page News! | Next: Karen Changes the CSF World