Contents | Start | End | Previous: Is There a Genetic Connection? | Next: Garth Crosses Over the Rainbow Bridge
---
Monday, September 8, 2014
I find myself the centerpiece on the front page of The Derrick! I expected some small thing in the corner!
"Karen's first-hand account of her illness gave an honest, heart-wrenching depiction of what it is like to live with debilitating pain day-to-day." ~ The Derrick, front page story, Sept. 8th, 2014. (Photo by Jerry Sowden.)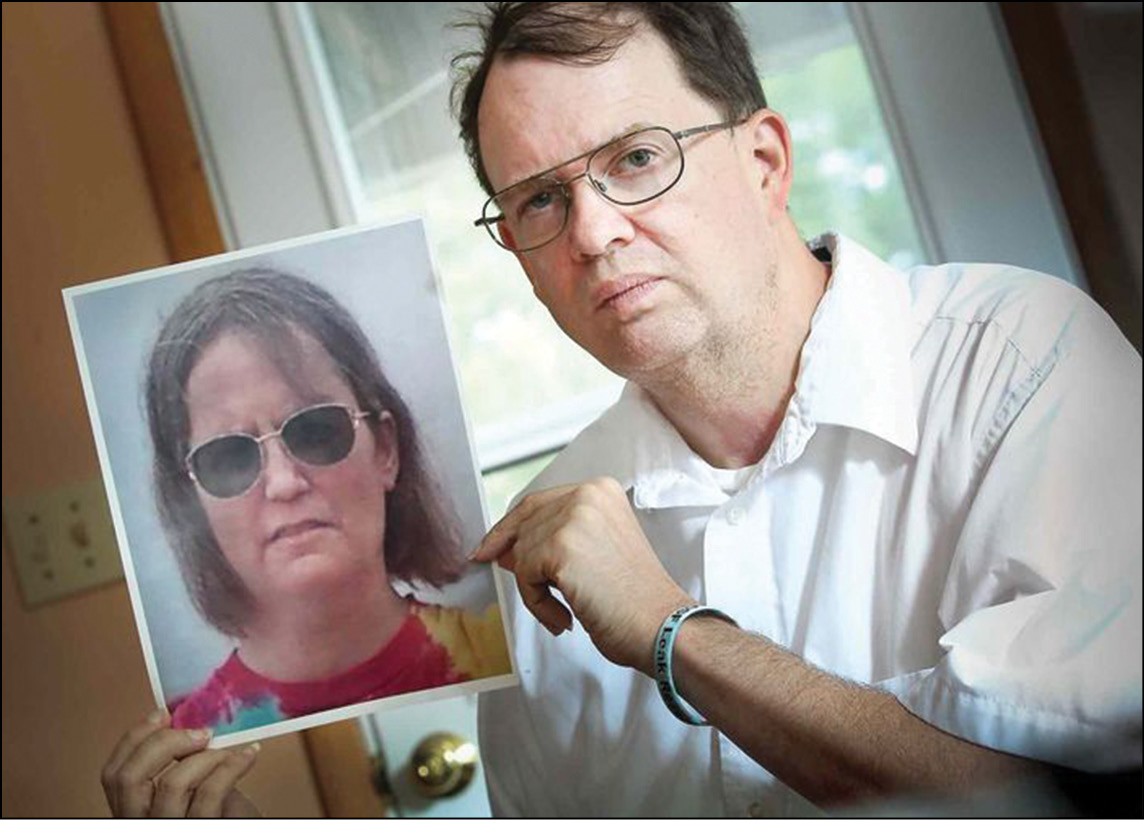 The Derrick granted me the extraordinary copyright exception to reproduce this story so that it may help others. I can not thank them enough for this, in the hopes it helps many. Take the PDF to your next doctor appointment if they don't believe you have Chronic Pain or CSF Leaks.
In the paper, there are two errors at the end. It is my gut that aches not my heart, like you get butterfly's in your stomach, not your heart.
The other error is the very last paragraph should be two paragraphs up, in that people should not hide their pain as people with Chronic Pain do.
Mid-September, 2014
I spent several days at Duke University School of Medicine recently, after this story was published in The Derrick on September 8th, to find out exactly what was happening. The highlights were meeting Professor Daniel Schmitt, Ph.D. from the Department of Evolutionary Anthropology and Associate Professor Leonard E. White, PhD from Duke Institute for Brain Sciences (DIBS).
Dr. Schmitt is the one that oversees the students doing dissections. He has already started to teach Karen's story as part of his course. He is now putting special emphasis on the Dura and how it can lead to headaches. In the past, the Dura was just something to be removed to get to the Interesting Stuff. They would like me to return to speak to the students, and take part in a dissection myself. (Not sure I'm up to that?)
We then meet Professor White. They will make Karen's Journal required reading for the Neuralbiology class (Future Neurologists), starting in January 2015.
This course is also available as a Massive Open Online Course (MOOC) THERE ARE CURRENTLY 100,000 PEOPLE IN 180 COUNTRIES TAKING THE CLASS.
"Feel free to pass the word to others you may know who might benefit from more formal study of medical neuroscience and the structure/function of the human central nervous system." ~ Dr White
I could not have imagined how to reach that number of people for them to learn about the cause of positional related headaches and Chronic Pain, that Karen suffered from for nearly two decades.
Donating Karen's Body to Be Studied
Sunday, September 28, 2014
On one of the Facebook groups a comment was made about wanting to donate their body to be studied to find their CSF Leaks. This is my reply:
For years Karen said she wanted to donate her body. At some point, she actually looked into it and decided it was not possible for what she wanted done.
She died at 3:30pm on a Wednesday. Thursday morning my brother-in-law and my Mother went to the local funeral home to make arrangements. At this point, I was still in shock and not thinking clearly and said nothing about donations, tests, or anything else. I simply did not think of it.
By Friday morning, I was thinking a bit more clearly and remembered what Karen had said about donating her body.
To that end, I contacted Dr. Gray to figure out what we could learn from Karen's body. There were too many logistical issues with even considering being studied in LA, such as timezones to just get the phone calls made.
What Doctor Gray discovered on her end and me working from this end, is that if you send a body to Duke, it ends up in the cadaver program and there is no way to override this. Dr. Gray could not figure out how to fight "the system." I even spoke to the head of the program, wish I remembered her name at this point so I could write her a letter, (was still not thinking all that clearly then to take notes). While she understood what I wanted, there was no way "in the system" to do what I wanted. If a body shows up, it goes to the medical student's dissection program. End of discussion.
Lee, we discussed this with Dr. White when we were there and he said he would look into fixing this problem, perhaps it would be better to get Dr. Schmitt to fix this problem, being more directly involved with bodies?
With the help of the local funeral director and discussions with Dr. Gray. Karen's spine was removed during an autopsy in Erie on Monday, the day of her funeral, and sent to Duke to be studied by the pathologists there. I actually did see images of Karen's spine when I visited Dr. Gray in the fall of 2013. For reasons that she did not explain, she thought it would be a bad idea to allow me to post these images, so I never got copies.
As I wanted to remember Karen as I last saw her alive, I never did see her after her death (her family wanted to and did), so it was always planned to be closed casket funeral.
Karen was always late to everything. Anytime we were to go someplace, she always had to go to the bathroom six+ times before we left the house.
Her autopsy to remove her spine was done Monday morning in Erie, the day of her funeral. Karen really was late to her own funeral!
She arrived back at the funeral home about the time the minister was wrapping up the eulogy.
Now my long-winded point here is it would be good to donate your body to be studied. (No early checkouts please!) I learned the hard way that all of these arrangements must be made in advance and everyone along the chain must know what you want, your family, your funeral director, and the place that is going to get your body.
Also, I cannot stress enough that each adult member of your family *MUST* have a will! Karen and I often talked of getting ours. We'll do it tomorrow… Well, we ran out of tomorrows! Even a year later, I'm still running into complications with things because we did not have wills.
Saturday, October 11, 2014
Garth goes to the dentist.
[Video showing he really wants to find Karen. Heartbreaking. ]
Saturday, February 7, 2015
I had the idea of turning Karen's website into a self-published book. I had no idea how to do this. I met up with my friends Mike and Tambra at Franklin On Ice.
Tambra told me that she had helped several people make their book ideas a reality as she had learned to navigate the process while publishing several of her own books, including her inspirational book, Live NOW: Touch Today, Mike's book, and many other local writers' books.
If Tambra can sell out of ice cream in a snow storm, I know she can help you, as she helped me put the book you are now reading in your hands. Contact Tambra Warner Sabatini at diademtambra@hotmail.com.
KDKA-TV Interview
Monday, February 23, 2015
Today I was interviewed by Dr. Maria Simbra Medical Reporter for KDKA-TV News about what Levaquin® did to Karen.
The group that arranged the interview did not want me to talk about any other health conditions so as to not dilute their messages. I understood their logic so just referenced "other health conditions" when it was required.
I feel that the interview could have gone better. Dr. Simbra had not read any of Karen's websites to understand what was going on. Karen would have been appalled at my closed-off posture, very poor body language on my part.
I was also taken off guard by Dr. Sibra's first question on camera "Tell me about Karen." All I could come up with in that agonizing moment was "She was smart." The factual questions I was well prepared for. This is what I should have said:
"She was smart. Always studying, always learning, always looking for a way to help others and herself. She'd put others needs before her own. She so wanted to get better so she could go to college when she got better 'and do something that helped people.' She was always attentive to the finest details of everything. For example, when we were planing our first trip to Durham, she checked all the states that we could conceivably drive through to see if studded snow tires were allowed in those states. How many people would think of that?"
The interview is to air sometime in March, they did not have an exact time yet.
I'd like to thank those that set this up. They prefer to remain anonymous, feeling they can help more people that way.
Tuesday, March 17, 2015
Karen's book [first edition] came in at 403 pages! That is too many. I'm not worried about saving trees (always a good thing), I'm concerned about the weight of the book.
I saw Karen struggle with heavy medical books because of the Levaquin® (Levofloxacin) damage to her wrists. She was usually wearing wrist braces. We were always trying to come up with some contraption made from string and PVC pipe to make holding the books easier for her, usually without a lot of successes.
If you are struggling with a health challenge, or the person that gave you the book has health challenges, I want the book to be easy as possible to actually hold.
Tuesday, April 7, 2015
Pittsburgh KDKA aired the dangers of Levaquin® today. Sadly, in trying to be 'balanced' they did the world a disservice. So the dangers of this class of drugs did not come across that well. Unless you are about to die from anthrax or plague, DO NOT TAKE THIS CRAP or any other fluoroquinolone antibiotic! When they were first developed, these drugs were meant to be chemotherapy drugs, for which they failed, not antibiotics.
[See: May 12, 2016 where the FDA officially states fluoroquinolones such as Cipro® and Levaquin® Et.Al., should not be used for the most common reasons the doctors give them out like candy. See also: http://kpaddock.com/fq]
Thursday, June 4, 2015
I spent some time at Cedars Sinai hospital visiting a leaker. When I left, I spent some time walking around LA. I came across this book laying on its edge, exactly as seen in the picture:
"Never Ever Give Up" (NEGU)!
Late June, 2015
Garth has seemed rather lame. I took him to the vet who said it was a flair up of his Lyme Disease and gave me a bunch of drugs to give him, which I've been doing. Karen never let me take him to the bike trail which I stared doing after her death. He was left alone in the house all day and he needed exercise. A tick got him last year and he got Lyme. Karen was right again.
Wednesday, June 26, 2015
60 Minute Makeover host, Michelle Watt, [see also] committed suicide due to a CSF Leak.
Monday, July 27, 2015
"Levaquin: FDA fails to disclose additional serious side effects of antibiotic linked to deaths calls for updated label warnings"
I once again find myself on TV. This time News5 Akron/Cleveland. Ron Regan did his homework, this video was well researched, unlike the KDKA one. According to data he managed to get from the FDA via a Freedom of Information Act (since the data was not readily available), 3,000 people have died and 20,000 have been injured. It is estimated that only one percent (1%) of Adverse Events are actually reported to the FDA. That would mean the true death total from this class of drugs is 300,000 and 2,000,000 injured!
---
Contents | Start | End | Previous: Is There a Genetic Connection? | Next: Garth Crosses Over the Rainbow Bridge