Contents | Start | End | Previous: Leaker Hotel Rates | Next: Called to Suffer book cover
---
Meeting Duke Dean Andrews
Thursday, March 13, 2014 at 9:30am EDT
This morning, Lee Campbell and I meet with Helen Poole and Joseph Tynan to discuss Karen's memorial fund. They are with Gift and Endowment Planning of Duke Medicine, Development and Alumni Affairs. Then we meet with Dean Nancy Andrews, M.D., Ph.D. I asked her to find a way to pass Karen's story on to the future doctors being trained there, so others don't suffer for 20+ years trying to find out what is wrong with them.
I've been wondering for a long time if I'm doing what Karen wants me to be doing. Should I be pushing, finding help for CSF Leakers and trying to find funding? I wish I had some way of knowing. I know part of the reason that Karen took her life was to "set me free." Free from having to deal with Chronic Pain and CSF Leaks. I don't feel free. Will I ever be free while others suffer? Karen wants me "to be happy." She had more understanding of The Secret than I thought she did. It's hard to be happy when I'm crying all of the time.
Thursday, March 13, 2014 at 5:00pm
When I got out of the van in the hotel parking lot, I saw a penny laying on the ground. Karen knew of the story 'Pennies from Heaven' where they say an angel will throw a penny down from heaven to let you know they are missing you. I picked up the penny and saw that it was from 1969, the year Karen was born. Do I have my sign?
Friday, March 14, 2014 at 9:10am EDT
I meet with Ella Little, sales director at Durham Homewood Suites. They give a discount for people with CSF Leaks, and I wanted to thank her. I also wanted to find out if there were other places that would support lower rates for leakers. I also asked her if she had any contacts inside the Hilton Foundation, as a possible funding source for Karen's Memorial and the Dr. Gray Fund. Ms. Little also offered the facilities if anyone wants to do a 'Leakers' reunion.
[We were never able to make the correct connections with the Hilton Foundation people, unfortunately.]
Friday, March 14, 2014
Karen's father had a quad-bypass and a valve replacement. So far he is doing well. I'm sure the full impact of Karen's mother being gone has not sunk in yet.
Saturday, March 15, 2014
I spent the day at The Rhine Research Center that is literally around the corner from Duke, learning about Dreams. J. B. Rhine started his studies of ESP at Duke in the 1920's. If Karen was stable, I'd often hang out at the Rhine learning the things that have always interested me that few can explain.
Sunday, March 16, 2014
I make the lonely ten-hour drive back home. I did pick up some CD books to listen to on the drive, makes the trip go a bit faster. I'm learning how to read body language.
Monday, March 17, 2014
I received this from Dr. Gray this morning:
From: Nancy Andrews, M.D., Ph.D.
Sent: Thursday, March 13, 2014, 2:26 PM
To: Linda Leithe, M.D.
Subject: Mr. Paddock
Linda,
Mr. Paddock came to see me today, before he visited you. He asked me to make sure that our medical students learn about CSF fluid leak as a cause of positional headache.
I followed up on his request. Len White [head of medical curriculum Neurobiology] told me that he would develop a case for the medical students during their Neurobiology course and have them read Mrs. Paddock's online blog, and Vern Juel [who manages the medical student neurology rotation] told me that he would add a case on CSF leak [and a case of intracranial hypotension] to the Neurology rotation.
If you happen to speak to Mr. Paddock, could you please tell him that I followed through?
Thanks, Nancy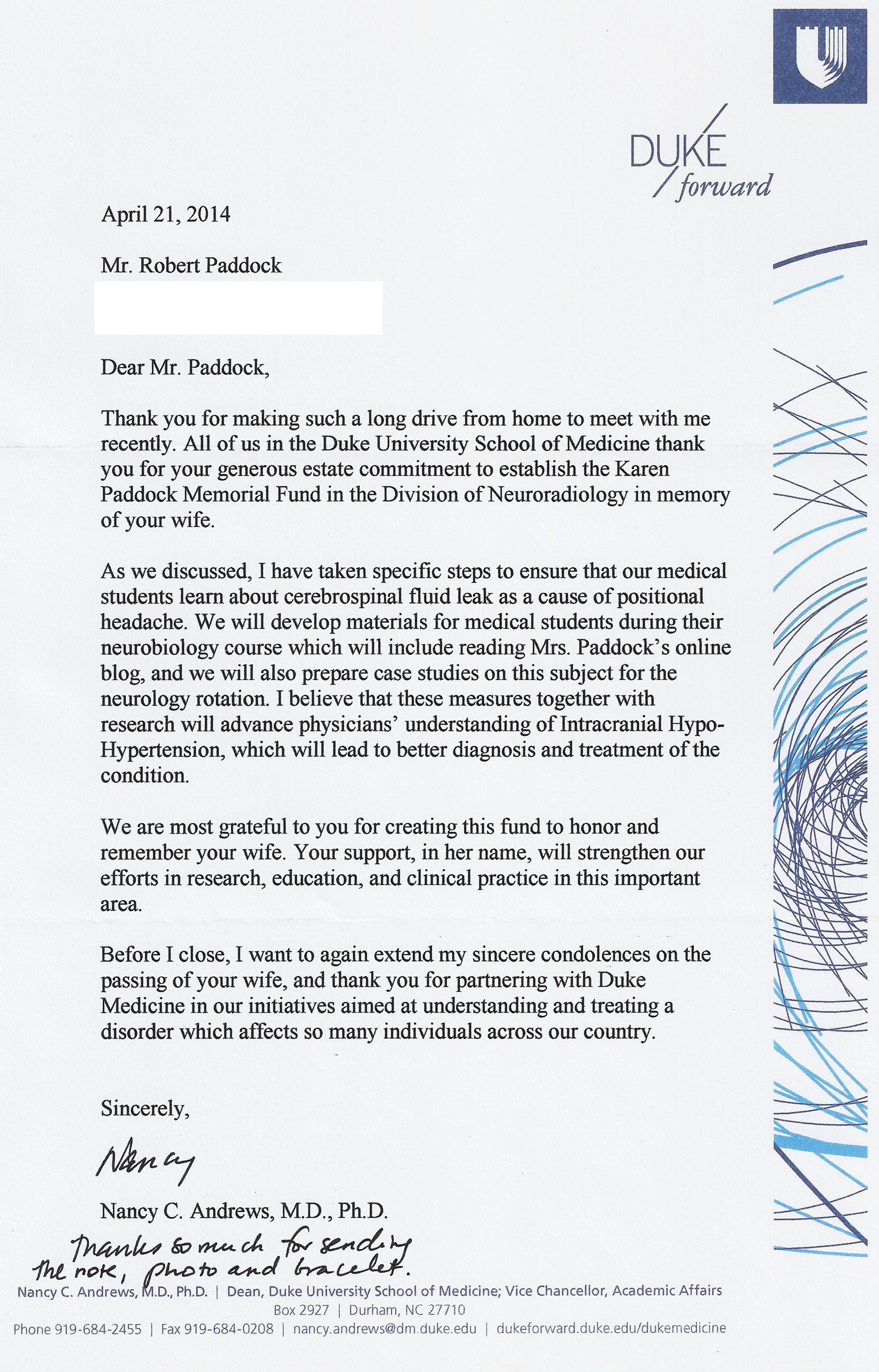 ---
Contents | Start | End | Previous: Leaker Hotel Rates | Next: Called to Suffer book cover