Contents | Start | End | Previous: My Last Day | Next: By Darla L. Dodds, Licensed Professional Counselor of Hand in Hand Christian Counseling, LLC, Franklin, PA.
---
Life After Karen
How My Death Unfolded for Hubby
I, Bob, pick up the narrative here.
Karen was undone by one of those #$@&%*! stupid phone menus! Press 1 for … #$@&%*!!!!
Wednesday, August 7, 2013 at 3:30pm EDT
I am slaving over my computer at work, like usual. For no reason, I feel a whole body electrical shock—like I had just stuck my spine in a light socket. A voice in my head says "Someone died." I looked at the clock on the computer. It said 3:30pm. I thought this was very odd, then thought no more of it.
I always called Karen when I got out of work at 4:30pm. She usually was prompt to answer. On occasion, she'd be in the bathroom or outside getting the mail. Not answering the phone on the first call did not concern me. When she did not answer by my third attempt at 5pm, I called our next door neighbor, Paul, and told him to go check on Karen. I was still a half-hour away from home.
At first Paul did not take me that seriously. Paul said Karen had been laughing and joking with him early in the day as she often did. On the day she never hurt more in her life. She was "that good" at hiding pain.
Many have said, "If I only knew, I would have helped her." As you can see, you had no way to know, so no reason for guilt, I have enough for all.
(My perspective is rather unique from most people now. People in Chronic Pain smile on the outside and suffer on the inside. They should not do this. It hurts them and hurts bringing attention to serious medical problems! Hidden problems do not get research dollars!—2014)
That morning when I got ready to go to work she said her heart was racing. I asked her if she wanted me to stay home and she said no.
Paul rapidly became concerned when he got no answer. I told him how to get into the house, which he did. He went right to the bedroom, as we suspected she was unconscious from some kind of heart issue. She had had issues with low potassium levels causing heart issues. As we talked over my cell phone and his, he said she was not in the bedroom.
"She has to be in the house someplace? Look in the living room, up stairs, or the basement."
Sounds of Paul walking around into the living room.
"Oh, God, No! Bob. She is dead! SHE HUNG HERSELF WITH THE DOG LEASH!"
Paul burst into tears. Those words will forever echo in my mind!
I'm still 15 minutes away. I tell Paul to call the police, as I had no idea what to do, it was the first thing to come to mind.
I call my Mother, (Dad departed in 2010). I'm still driving, not all that well at this point. Mom answers.
Me: "Karen is dead. She hung herself with the dog leash."
Not understanding (how could she?), asks: "How did she get tangled up in the dogs leash?"
"Mom, this was a suicide!"
Silence.
I don't remember anything else other than, at some point, I remember her crying on the phone.
By the time I arrived home, there were at least five state police and ambulance along the road and more in the driveway. They would not let me in the house, and for that I am thankful. I requested a closed casket funeral so my last visual image of Karen would be of how I saw her last standing in the doorway in her pajamas watching me leave for work, rather than how she was found.
Goodbye
Had I been more perceptive, I would have questioned her standing there and saying GOODBYE, which was Karen's very last word to me. This was not normal. I hate seeing that word on my phone every time I turn it off!
At some point, and I don't recall when, I called my brother-in-law at his place of work. I did not want to call them at home and have Karen's sister answer. When I asked for "Jim," the foreman asked, "Sr. or Jr.?" and I told him I wanted Sr. I was told Sr. was not there but Jr. was. The foreman sounded annoyed that I was making a personal call to them, like I was about to ask them to go bowling or something. When I told the foreman that Jimmy's aunt had just hung herself, he became helpful and put our nephew Jimmy on the phone.
I got Jim's cell phone number from Jimmy and called him. It took a while for it to sink in for Jimmy. He eventually went home from work early.
Jim had me repeat that Karen was dead more than twice. Who expects a call like this? Karen's sister and niece were on their way home from someplace and Jim told them to get home without stopping anyplace but did not tell them why. After they got the news, which was not taken well (how could it be?), they told Karen's parents who lived near them.
(On July 5th, 2014, Jimmy and Stacey had their first child. I'm sure Karen will be watching out for Brenton. Karen so wanted to have children of her own but "wanted to get better first." I'm sure if we had any children she would still be with us today. )
Wednesday, August 7, 2013 at 9:39pm EDT
[This is the first message I posted on Karen's timeline, a message that stunned the world. ]
This is Karen Paddock's husband, Bob.
As some of you may have known, Karen was in Chronic Pain from a car accident that happened 23+ years ago, which caused a cerebrospinal leak. This caused excruciating headaches.
Today after getting the run around from three different doctors about getting help, she had enough.
Sometime between 12:30 and 4:30 she hung herself with Nick's leash (Nick was a very strong dog, hence a strong leash).
Karen makes the third or fourth person with this condition that has killed themselves.
Let's hope a solution is found before someone else has had enough of the pain.
Don't know what else to say.
(The discrepancy between 12:30 in the posting here and 3:23 above have to do with the time of her last email to me at work, 12:30, and her last Facebook message. It would be many days before I start to read her messages and find her last message at 3:23, and then decided that her story must be told to help others learn of this CSF Leak condition as you are reading now. —2014)
(I'm sure some have questioned my posting her manner of suicide. I knew if I did not, it would lead to speculation that would be far worse than the truth. Look up: The Werther Effect.)
Thursday, August 8, 2013
We had to make the funeral arrangements. People that knew Karen well, know that she would study any subject to learn all that could be learned about it. One of the subjects was funeral planning and how the funeral industry worked to make a profit. I took the book The Affordable Funeral: Going in Style, Not in Debt! by R. E. Markin with me from Karen's library; I'll put her reading list on her website. I got $2000+ off the price. I knew if I did not do this she would come back and haunt me for sure!
Make sure you have at least $15,000 in life insurance to cover the cost of your funeral and the paperwork!
(Just a few days short of the one year mark now, I'm still having to deal with paperwork because we did not have a will. GET A WILL MADE OUT TODAY!!)
By Thursday afternoon, I got my wits about me and decided I'd refuse to let Karen's death be in vain. To that end, I contacted Dr. Gray to figure out what we could learn from Karen's body. What really was wrong with her all these years? Why was nothing working in the long term? Karen's spine was removed during an autopsy and sent to Duke to be studied. There were too many logistical issues with even considering being studied in LA.
The preliminary autopsy results showed that Karen was leaking from the very tip of her dura (S4). A place no one had any reason to suspect, not even Karen, nor any of the doctors. It is my hope that the one good thing that comes out of this is that the doctors now know to look at that location.
(Someone asked me if Karen had Tethered Cord. I do not recall Karen ever saying anything about TC. Her cousin does have TC and Chiari. Is there a genetic connection going on here? - 2014)
Thursday, August 8, 2013 at 6:48am EDT
Do hope Karen's death motivates these people to do more research and get this CSF issue taken care of so there are no more that end like Karen.
Thursday, August 8, 2013 at 3:40pm EDT
Bob, Sending you my love, thoughts and prayers. I didn't know Karen and saw your post on the Chiari Board.
I am so very sorry for your loss. I lost my brother to suicide 5 years ago. There's an amazing book by Carla Fine called No Time To Say Goodbye. I'm here if you need to talk.
[Full title is: No Time to Say Goodbye: Surviving The Suicide of a Loved One. Also on my reading list is: Suicide: What Really Happens in the Afterlife?
Thursday, August 8, 2013 at 10:24pm EDT
I feel empty inside. Nothing that can be done that I know of, thank you for asking.
Friday, August 9, 2013 at 7:53am EDT
Christine Sepanek [She told me in 2016 that she felt she was actually channeling Karen when these words came to her.]
"Today, I came so close to the water's edge, and I believed it would heal me.
So, I knelt with reverence there and though it hurt just to tilt my head back, I did and I lifted my eyes to the sky.
It was there in the midst of my unrelenting pain and through the desperate sound of my own unanswered plea for relief, that I heard you crying at length.
I recognized the sound, I recognized your tears and I knew that, like me, no words could console you.
You had departed the place where others find hope, the moment I said goodbye.
Not one second did I ever believe my maker would rejoice as I made my choice and made my way to the water's edge.
Please know that I heard you so clearly but in the bitter solitude of pain, and despite the whispers and the shouts, I simply lost strength."
Friday, August 9, 2013 at 7:57am EDT
I cry my eyes out reading that. NEVER take the path Karen chose to take in the end. May I quote it on her page and website?
Friday, August 9, 2013 at 8:06am EDT
Christine Sepanek: Yes, it is yours.
I wrote it for you last night. I wept for you, I couldn't sleep trying to remember if Karen and I had ever talked one on one.
Thinking if we did, "Did I listen?" I cried so much I drove my pressure sky high and I couldn't understand why I could not stop.
Suddenly, I realized my tears were for you and I did not know another way to reach out to you.
If you ever need to chat, night or day, if I am awake…I will make time for you.
Friday, August 9, 2013 at 8:35am EDT
Do you want me to use your name or how would you like me to cite the author?
Friday, August 9, 2013 at 8:51am EDT
Christine Sepanek: Yes you can use my name.
Friday, August 9, 2013 at 10:14am EDT
… I just saw your invite, you must not have heard yet. This is Bob, Karen's husband. Karen hung herself on Wednesday. She had had enough of the pain. Please look at Karen's Facebook page.
Her obit should be in today's paper, which I need to go out and buy a few right now. Karen did enjoy the time she spent with your group.
I'm going to post what Karen wrote to you on her web page when I get it updated. I want to gather all that I can to put there related to CSF leaks, Chiari, etc.
Also please send me contact information and any website related to your group that I may post it as well. Please let others know of Karen's passing at the meeting.
The number of messages I'm getting about how Karen helped them has become overwhelming for me to keep up with.
Friday, August 9, 2013
Chiarian Found Dead—has link to Karen's obituary. Technically Karen had pseudo Chiari. (There was some confusion about her having Chiari because I mentioned in one of my early postings right after her death. —2014)
Saturday, August 10, 2013 at 8:48pm EDT
Saw your post about the logistics. That is what undid Karen.
I find no fault with the doctors, just could not get their schedule lined up when there were three involved.
Each thought they were doing what was in Karen's best interest.
Alas, they did not understand how much pain she was in and what state of mind that put her in. In her own words she "was not thinking clearly."
All of Karen's 'Stuff'
Monday, August 12, 2013 at 9:00am EDT
All of Karen's family will be here soon. I've gathered everything she owned except her computer, that I need to get files from, and her library of books, for them to take if they want it. Karen said I had far more 'stuff' than she did. She once again proved she was right. This is everything she owned. See 2004 for a picture of all of the braces hiding under the bench. This proves Karen's frugal nature.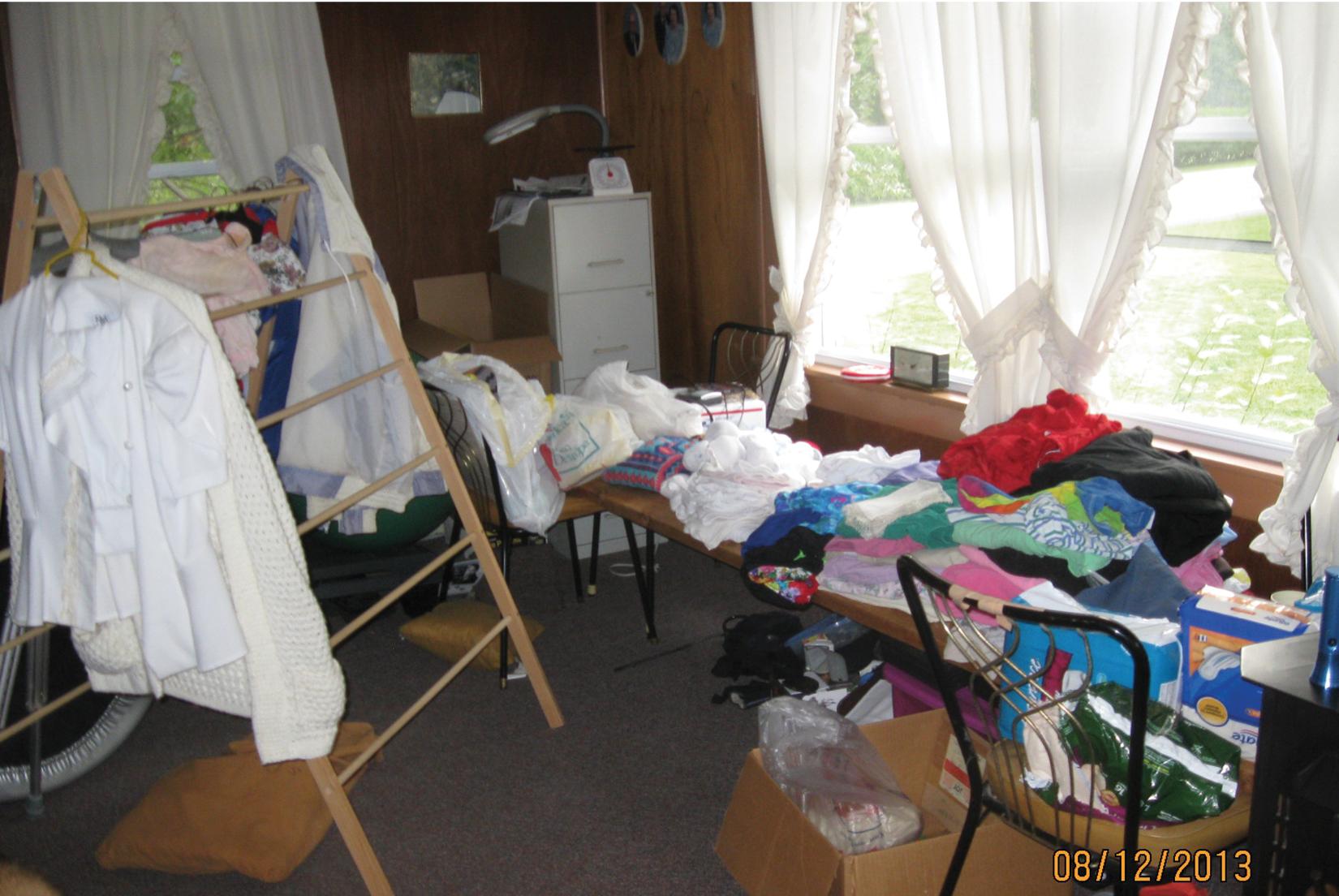 Monday, August 12, 2013 at 1:00pm EDT
I'm wearing my suit (something I do not like doing) about to go out the door to Karen's funeral as the phone rings. I pick it up. "Hi, do you need any aluminum siding?" I'M WALKING OUT THE DOOR TO MY WIFE'S FUNERAL! Slam down the phone and walk out the door. We are on the Do Not Call List why do I keep getting these #$@&%*! calls?
(I no longer answer the phone. If I don't recognize the number on the Caller ID I let it go to voice mail. If it is not important enough to leave a message, it is not important enough for me to interrupt my life. I'm thinking of disconnecting the ringers in the phone so I won't even know it is ringing. Mostly I get scam calls saying, "We are from Microsoft (they aren't). You have a problem with your computer." Mom gets these too, she doesn't even have a computer! If I have the time, I play with these people asking them which of my 40 computers has the problem (don't have that many), and say how happy I am that Microsoft has taken interest in my Gentoo Linux box.—2014)
Monday, August 12, 2013 at 3:00pm EDT
Karen's Facebook friends have "One Minute of Silence" for Karen. 103 people attend. Lee Campbell from the Durham, NC area made the 550+ mile trip to be there for Karen's funeral, to represent all of the 'Leakers' that would be too debilitated to make the trip. Thank you, Lee.
Saturday, August 17, 2013
Here are the sympathy cards I received, some with some profound words in them. Thank You, everyone.
Wednesday, August 28, 2013
Today would have been our 20th wedding anniversary. This is Karen in her wedding dress the day we got married. She had hope!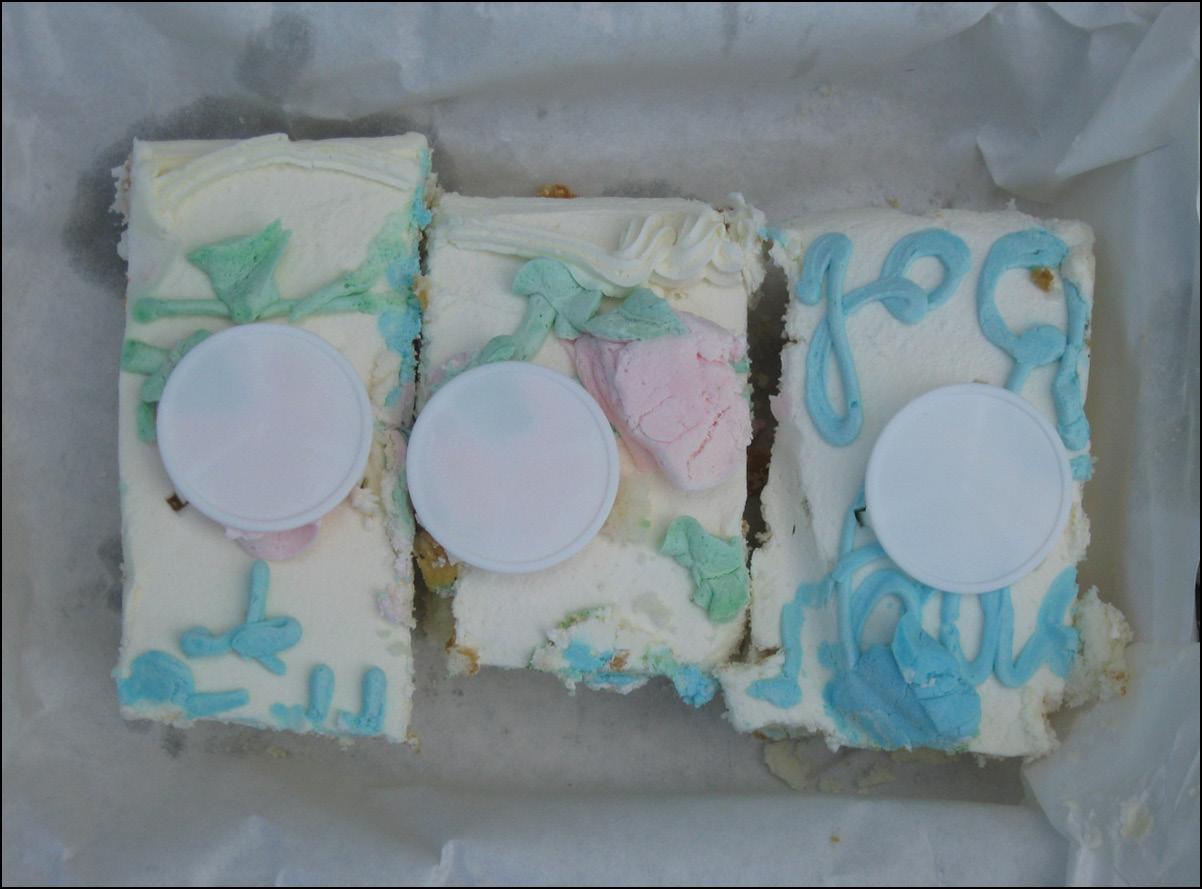 She kept part of our wedding cake for these last twenty years! I often asked if I could get rid of it so I could use the freezer space from my cooking. She always said, 'No.' If she was still here today, I would be getting it out of the freezer. Twenty years is long enough for a cake. I'm surprised it is not a big ball of mold by now.
August 29, 2013 at 8:28pm
Did Karen feel pain when touching this spot? [Pointing to spot at the junction of the base of the skull and the soft spot below it.] That is the spot Karen pointed to for years. That is the location of the Occipital Nerve. It is not generally a leak site, however if the brain is not properly positioned due to a leak, the nerve can get stretchered in ways it was not designed to handle. Karen had it cryogenically frozen at the Meadville Pain Clinic about every three months to relieve headaches from that before she learned about leaks. Chemical injections did nothing for her.
There is no good way to end this history, so I'll simply stop now in the hopes others have learned something that will help them and further the advancement of CSF Leak research.
It seems the story may never end, as I learn more about CSF and make new connections in to 2014 and beyond…
I Want a "Do Over"
November, 2013
There are several days in my life that I'd like a "Do Over."
Do I go back to a few days before Karen's suicide to prevent it?
Do I go back twenty-four years to prevent her car accident in the first place, so that she did not suffer for all of those years?
Do I go back to the post office where I let a lovely looking young lady go before me, where there was a very long line at Christmas time. She hung around by the door clearly wanting me to talk to her, and I was too shy at the time, something I've overcome with the passing years. I would have never meet Karen at all.
Do I go back to high school and ask the girl there that I liked, that I was too afraid to even talk with due to my shyness?
Do I go back to the first big decision of my life when I was seven, and my parents gave me a choice between karate lessons or an organ with music lessons. I choose the music lessons, as being a nerd, I was attracted to all the blinking lights and buttons of the organ.
If we could pull at the threads of the tapestry of our lives, how much of it will unravel? Do we want it to?
Mental Health First Aid
Thursday, February 27, 2014
I just spent two days taking the class "Mental Health First Aid" to learn about suicide. I missed the signs in Karen. I'm never going to do that again. Like learning CPR, you learn it in the hopes you never have to use it. Alas, some questions about suicide have no answers. There is an empty painful ache in my gut still, even after six months, that will not go away.
A Little Bit More
Saturday, March 1, 2014
In doing some house painting, months after my death, hubby had to move a desk. He found my secret stash of papers, the following poem among them.
[When you are down and depressed think of me, Karen, and give it, "Just a little bit more"…]
---
Contents | Start | End | Previous: My Last Day | Next: By Darla L. Dodds, Licensed Professional Counselor of Hand in Hand Christian Counseling, LLC, Franklin, PA.